Preface: I am aware that we can change our settings to toggle "Paging moves to known".
(I toggle that ON when I'm using LingQ to help me study a language I know well, and OFF for new languages. I am careful about that setting, and this is not my problem.)
Problem #1: Different behavior in iPad versus laptop/desktop computer with the vocabulary view of the lesson.
Here is the iPad view. It offers the user the opportunity to create a link and set it to any level (1-4, "known", or "ignore")

Here is the laptop and desktop view on Chrome + Apple. It only offers the limited choices of "known" or "ignore".

Is that by design, or is there a plan to upgrade the desktop/laptop view, or do I have something wrong with my cookies or some other problem unique to my environment (Chrome + Apple)?
Would a different browser on Apple laptop/desktops have better behavior today?
Problem #2-A occurred on my Apple laptop with a German lesson, and just now on an Apple desktop with a Danish lesson that I imported. This bug has been mentioned in other posts as well.
I quickly paged through a lesson and the unclicked words went to either "known" or "ignored". [See Above: I have verified my settings that "Paging moves to known" is toggled off.].
Problem #2-B: With the imported Danish lesson, I can click on a non-highlighted word from Problem #2-A, for example, "skønne" and the LingQ window tells me that it is marked as "known". However, outside of this lesson, searching for the word "skønne" comes up empty (see screenshots below). These words dwell in a dark nether realm and I feel obligated to save them! Where are they? How can I find them?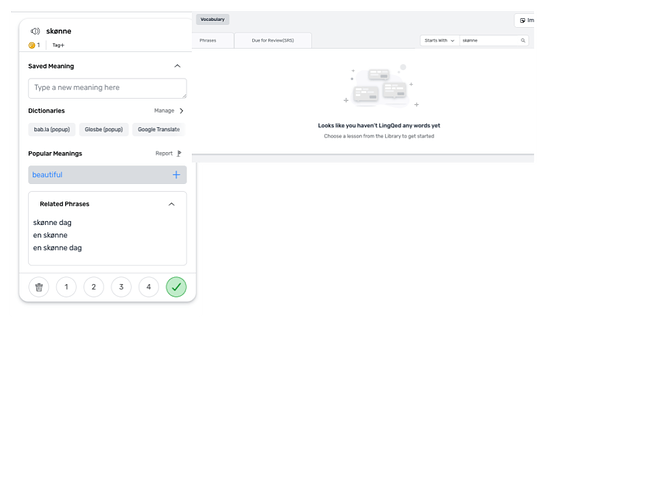 Problem #3: I am desperate to use software to obtain a list of words that I (or a software bug) have marked as "ignore".
I can code – an API solution that would give me the list would be fine. API solutions I found from previous posts now lead to a 404 error. I cannot find the documentation for V2 of the API (linked in an earlier post). I cannot find documentation for V3. IF ANYONE COULD SUPPLY AN API SOLUTION, I'd be most grateful!
Yes, we can painstakingly go through lessons and click on the non-highlighted words, but I think many of us are here on LingQ because we are seeking to avoid activities like that. At this point in my language journey, I have a sizable number of legitimately known words so having LingQ intelligently highlight the new and previously LingQ'ed words greatly speeds up my reading – it's such a game-changer and I love it.
FEATURE REQUEST: Please, can "ignore" be a category like the others so that we can use the nice GUI to search for ignored words on the Vocabulary page? Many others have requested this.