Is it possible for someone to please import lessons 101-130 InnerFrench to LingQ please
I believe you have to import it yourself as a private course. I don't think it is copyright free to have it public on LingQ
I don't know how to import them. They are not on YouTube. Only inner French site or podcast places
You can import them from the Apple Podcast or other places. You can download from the podcast the audio and then upload it to LingQ. Look at their website where they have their podcasts and choose the platform you prefer for the download.
No that doesn't work. Can't get it into LingQ. Tried downloading before sending to LingQ just the same. One page of computer voice and then nothing. Tried all this before can't get a podcast in LingQ YouTube yes but not from a podcast forum
If you have a Mac you do something like this.
In the website there are various links, they are on Apple Podcast as well.
You open the episodes on Apple Podcast and you download the episode.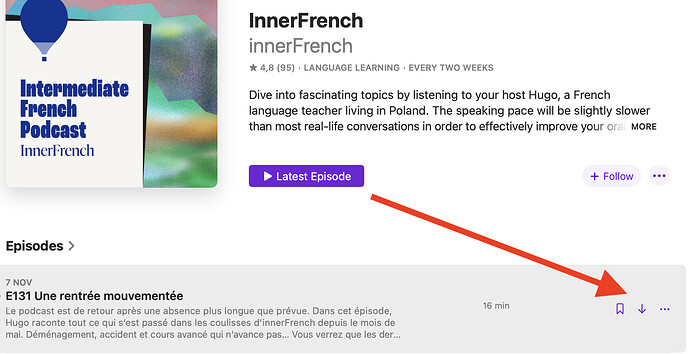 You need to figure out where the download is in your computer. Usually something like library>group containers> some number with .podcast > library > cache
You will see something like this.
You can then use that mp3 as you wish. I usually duplicate it, change the name, upload it to LingQ, delete it. Then from the Apple Podcast app I remove the original download with numbers in the name.
You will have the automatic transcript from Whisper on LingQ, which won't be perfect.
If they have a transcription too in the website, you can use that and upload the audio in the lesson.
I can't do more than this. Hope it helps.
No doesn't work mind I'm using an iPad and iPhone so that could be it. Goes back to my original question could some nice person download them. Has been done before why not again. I want to get on with the learning all this messing about with downloading or not is stopping me just doing that
Well, first of all, you can do like everybody else here, dedicating time to learn things if that are of your interest. Nobody is doing the work for us, especially not for free, and even more if it involves copyright infringements.
Second, if someone has done this before he was in violation of copyright and should be reported because that content should be taken down.
In fact, if you had dedicated some time to learn it by yourself, you could have read the policies of InnerFrench that you can find in this link: Terms and conditions - innerFrench
I copy the related paragraph:
The Administrator hereby informs the User that the contents available on the Website constitute works as defined by the Act of 4 February 1994 on Copyright and Related Rights and that the Administrator is the owner of the copyright to those works.

The Administrator hereby informs the User that further distribution of the content by the User without the Administrator's consent, with the exception of using the content within the framework of permitted personal use, constitutes an infringement of the Administrator's copyright and may result in civil or criminal liability.
Nobody can download it for you, because they should share it publicly, and that would be their illegal responsibility. Plus it would involve LingQ's responsibilities as well.
You can make a subscription to their services, and learn from their material, or ask them if they can help you to download their content for private use only. Like it is written in their policies.
I hope it is clear!
We need to be cautious about copyright and follow the terms and conditions set by InnerFrench. It's crucial to respect the intellectual property rights of content creators. If you're facing difficulties with the download process on your iPad and iPhone, reaching out to InnerFrench directly might be a good idea.