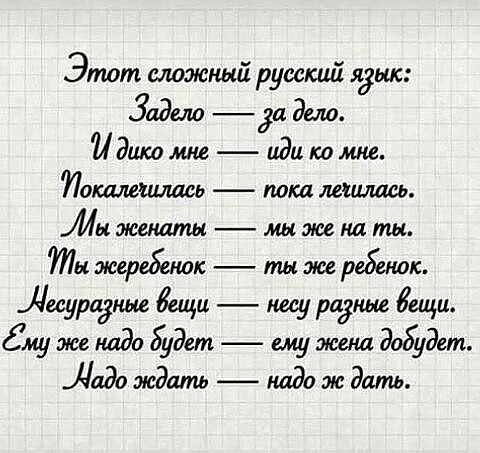 Interesting. But it would be useful to have the translations!
This difficult Russian language:
Задело - за дело.
И дико мне - иди ко мне.
Покалечилась - пока лечилась.
Мы женаты - мы же на ты.
Ты жеребёнок - ты же ребёнок.
Несуразные вещи - несу разные вещи.
Ему же надо будет - ему жена добудет.
Надо ждать - надо ж дать.
Wounded / affected / stepped on smb's toes - rightly to him.
And it is wild for me - come to me.
Crippled - while being treated.
We are married - we are speaking less formally together.
You are a foal - you are indeed a child.
Awkward things - I carry different things.
He will need to - his wife will get it.
We must wait - we do must give.
...непереводимая игра слов с использованием местных идиоматических выражений - YouTube
… дальше следует непереводимая игра слов с использованием местных идиоматических выражений
Thank you, Ress. And indeed, the Russian language can be difficult!
Вспомнилось, что по такому же принципу я когда-то обыграл имя Изольда (изо льда) в одной из своих песен.